Carlos Ferrand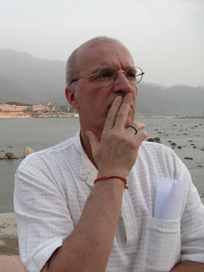 Carlos Ferrand was born in Lima, Peru. From Limato Brussels, Parisand Vermonthe spent several years studying and wandering about, but with film always at the core of his interests. For the past 35 years he has worked in Canada as a screenwriter and director and has collaborated as director of photography on about fifty films, both fiction and documentary.

His interests vary from social issues to spirituality and the poetics of entertainement. He directed the first film made in Peru about African slaves, Cimarrones; then for InformAction Films Visionaries (Best Cinematography and Best Overall Sound at Hot Docs) and The Magic Touch, about Dominique Lemieux, costume designer for Le Cirque du Soleil, which won three Gémeaux Awards, including Best Cultural Documentary.

Americano, his latest feature documentary, a road movie from Patagoniato the Arctic visiting friends and taking the pulse of the Americas, has been presented in 25 festivals and won several prizes and nominations. He is writing a fiction docu-drama about ex-prisoners' reinsertion into society and a feature-length fiction film about the saga of an Andean adventurer.

He is currently directing the feature documentary Yoga the Film for InformAction. He lives in Montreal with his family.