Anaïs Barbeau-Lavalette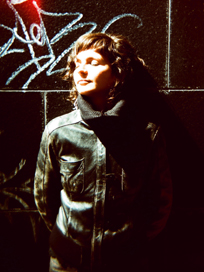 In 2000, after a year in Honduras, Anaïs Barbeau-Lavalette directed the documentary Les Petits princes des bidonvilles (Prix du Public Festival Muestra cultural de Montréal). She enrolled in International Studies at studies at Université de Montréal, studied film production at INIS (Institut National de l'Image et du Son) and attended Birzeit University in Ramallah, Palestine.

In 2001 she co-directed Buenos Aires, no llores, a documentary shot in Argentina that played in numerous international festivals (Best Short Documentary at the Festival de Cherbourg; in competition at FIPA, Biarritz). She was among several hundred candidates to participate in the Odyssée du volontariat, a project that took her around the world over several months, during which she directed 15 short films on the theme of volunteerism.

On her return, she directed several feature documentaries, including Si j'avais un chapeau (Spécial Mention, Journées du cinéma africain et créole, Vues d'Afrique, also nominated for "Best Social Documentary and Best Research at the Prix Gémeaux 2006), a film that gives voice to children in Québec, India, Tanzania and Palestine. Another documentary, Les mains du monde, deals with the subject of social engagement. ln 2007, she made Tap-Tap, a poetic documentary portrait of Montréal's Haitian community, followed by her first fiction feature, Le Ring, which received critical acclaim. In 2008 it was selected by the prestigious Pusan, Berlin and Camérimages festivals and won awards at Madrid, Aubagne, Vladivostok, Taipei and Kiev.

For the past five years, Anaïs has been a part of the Wapikoni Mobile audiovisual adventure and has directed videoclips for musicians the likes of Catherine Major, Thomas Hellman and hiphop artists Samian and Dramatik. In 2009, she worked on screenplays for two new fiction films and co-directed the documentary Les Petits Géants (with Émile Proulx-Cloutier), présented at the closing of the Rendez-vous du Cinéma Québécois 2009. She also directed Se souvenir des cendres, a documentary that follows the making of Denis Villeneuve's feature Incendies. She is now directing a documentary series for ARTV (Les Voix Humaines), and will soon being shooting her next feature film, Inch'allah (produced par Micro_Scope). In autumn 2010, she published her first novel, Je voudrais qu'on m'efface (Éditions HMH Hurtubise).