Jocelyn Barnabé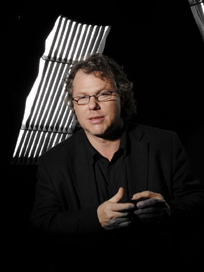 Jocelyn Barnabé is a writer-director who did university studies in anthropology, communications, film and music. A passionate musician, he then branched out to television production, working as a director at Radio-Canada and Much Music in Toronto, and then at Radio-Canada Montreal. He has twenty years of experience as a director of cultural, music and variety special programs, televised galas and point-of-view documentaries. In 2008, the Académie du Cinéma et de la Télévision awarded him the prestigious Prix Jean Besré. In 1999, he won the Rogers Communications Award for art coverage in the media, attributed for the body of his creative work in television.

Here are some examples of programs directed by Mr Barnabé in recent years : Concerto #4 d'André Mathieu avec l'OSM. CHAPEAU M. COHEN, (opening show, Montreal Jazz Festival 2008), LES COLOCS, DIANNE DUFRESNE : TERRE PLANÈTE BLEUE (Francofolies closing show 2008-1009), RENCONTRES (Opening show Québec City's 400 Year Centennial), 2007 en RAPPEL (with Yanick Nézet-Séguin and the OSM), PIERRE LAPOINTE : LA FORET DES MALS AIMÉS (Francofolies closing show 2007, with the OSM), SYMPHONICITÉ : (live concert by the OSM), LE REQUIEM DE MOZART (Les Violons du Roy) LA SYMPHONIE ÉCLATÉE (Maestro Kent Nagano's inaugural concert), FINA (inaugural show for the International Water Sports Games created by the Cirque du Soleil and broadcast live in over 169 countries), CORTÉO (broadcast of the Cirque du soleil's most recent show), CARTE BLANCHE (ten variety specials), BEAU D'HOMMAGE (opening show for the Francofolies de Montréal), LE GALA DE L'ADISQ, LA SOIRÉE DES MASQUES, LA SOIRÉE DES JUTRA, BRAVISSIMO, etc…

He recently directed the following programs: Les Gémeaux, Les Prix du Gouverneur Général, L'invitation aux images : documentaire 40e de la cinémathèque (INFORMACTION), La fête Nationale, Concert 2002-2003 : (RADIO-Canada), Jorane et l'O.S.Q. (CONSTALLATION), Le Cique du Soleil : La fabrication d'un ange (CIRQUE DU SOLEIL IMAGES), Montréal mène la danse, Montréal brûle les planches, Montréal en voix, Les Planetes O.S.M. (AMERIMAGE), Lorti-Beethoven (RADIO-CANADA ET ARTV), Michel Cusson : Un Homme et sa Musique, La francophonie chante Plamondon (ZONE 3), Angel Dubeau : La Pieta (TELEVISION), Wayne Shorter (AMERIMAGE), etc,.. Le vent, le rock, la mer… with Diane Dufresne 2001, Belles et rebelles (SOGESTALT), (nomination : prix Gémeaux) ; Isabelle Boulay dans tout ses états (AVANTI), (nomination : prix Gémeaux 2000).

By the end of 1999, he had completed Chronique d'une fin de millénaire (RADIO-CANADA), (three Gémeaux – 2000), an ambitious, complex 4-hour television special which constitues a cultural journey across the past thousand years featuring interviews from around the world. He also directed the following special programs: Le violon rouge (AMERIMAGE) (nomination : EMMY award 2001). A concert by the OSM (a vibrant interpretation of scores from the films of François Girard conducted by Charles Dutoit), Canada's participation in Millenium Day (RADIO-Canada), a global television production broadcast on January 31 1999, a documentary about Luc Plamondon and Ricard Cocciante 's musical Notre-Dame de Paris, l'histoire d'un spectacle (1999), (ZONE 3) immortalising the early days of this Québécois musical adventure in Paris. We also owe him the specials Le Mystère des voix québécoises (prix Gémeaux 2000), La Mémoire (1999) and Refus Global, la quête de la liberté (1998) (RADIO- Canada).

Since 2000 he has directed Les Jutra (Gala du cinéma). Since 1998 he has five times directed Le gala de l'ADISQ (prix de l'industrie du disques et du spectacle). He created the cultural magazine La Vie d'artiste (1996-2000), (several-time winner of the Gémeaux – 1997–1998–2000), La Soirée des Masques (Prix du théâtre québécois). Since 1993 he's directed, the magazine Scènes de la vie culturelle (1995-96), Tous unis contre le SIDA (1996); a spécial program broadcast simultaneously on five networks, the documentary Glenn Gould: Extasis (Prix Annik 1995), the 9-part series Les Grands romantiques: Liszt et Berlioz (prix Gémeaux 1997), Prix Génie 1993-1995 Galas (the Canadian film awards), a documentary on Pierre Boulez and his Institut de Recherche et de Communication Acoustique Musique (1993), L'Oeil écoute, documentary about four québécois composers who work in film (1993), Le Musée Imaginaire, on Robert Lepage's play « Vinci » with Louise Lecavalier, Le Cirque du Soleil, Marc Favreau, Louis Lortie and others (Prix Anik 1992, Bronze Plaque Award at the Colombus International Film & Video Festival), an adaptation of Infante intitled La La La Human Steps: Fractales (Input 1993, Special Mention, Prix Italia 1996), Beethovenissimo, a perforamce of Beethoven's Eighth and Ninth Symphonies, (prix Anik 1993, Bronze Plaque Award, Colombus International Film & Video Festival), Cinéma, Cinémas, a special on music for film (prix Anik 1992), OSQ Blues, a concert by the Orchestre Symphonique de Québec featuring Corky Siegel and the Montreal Jubilation Gospel Choir (1992), I Musici, a concert by the chamber music group I Musici conducted by Yuli Turovswky (1990), and an operatic special with Eva Zseller and the Orchestre Métropolitain conducted by Raffi Armenian (1990).